The new electric Smart #1 – An SUV in cooperation between Daimler and Geely
8. april 2022
Smart has pulled the curtain on a remarkable new model. This #1 is not only the first brand new car of the small brand in a long time, but also the largest, heaviest, highest, most powerful and so on. Yes, Smart starts all over again!
New bosses, new laws, they say. At Smart, for example, which has no longer been completely under the wings of Mercedes-Benz since 2019, but which is 50% in the hands of Geely. That Chinese concern, which also includes Volvo and Polestar among its ranks, immediately mapped out a new course for the small manufacturer. That future had to be larger-scale and more electric, and this #1 must take care of that.
We may speak of the influence of Geely, but the design seems to have been mainly occupied by German artists. Then we are not talking about Smart itself — because of the small ForTwo and ForFour there is little left in this interplay of lines — but about Mercedes-Benz. For example, this #1 takes the form of a kind of miniature EQA or EQC, following the study model that Smart already showed last year. Both front and rear are therefore continuous LED beams, and the whole is made extra efficient with disappearing door handles and an extremely slippery body. The rims must then refer back to models such as the Smart Roadster, which at the time rode on three-spoke slippers.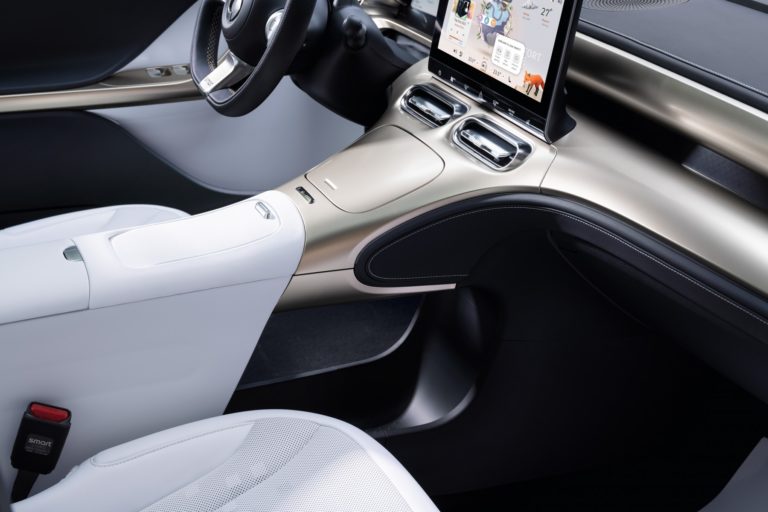 If we open the handsome, frameless doors of #1, we immediately see influences, for example, the dashboard runs as one flowing plastic blob in the center console, which is nice and high for a cockpit feeling. A 12.8-inch touchscreen also provides infotainment, and is accompanied by a 9.2-inch driver display. The #1 does not disappoint in the back either: thanks to a spacious rear seat, this is the first Smart that fits five people, and if you cleverly move that seat, you can also increase the size of the boot from 323 to even 411 liters.
If that sounds surprising for a Smart, wait until you get to know its powertrain. Where the electric ForTwo and ForFour still had to make do with 82 hp of power and 17.6 kWh of battery capacity, this #1 can immediately show off more. Significantly more, because it delivers a mighty 272 hp and 343 Nm of torque to the rear wheels. It also gets its power from a 66 kWh battery, which you can quickly charge up to 150 kW to regain 80% capacity within 30 minutes. According to the manufacturer, you can travel about 440 kilometers with a fully charged battery.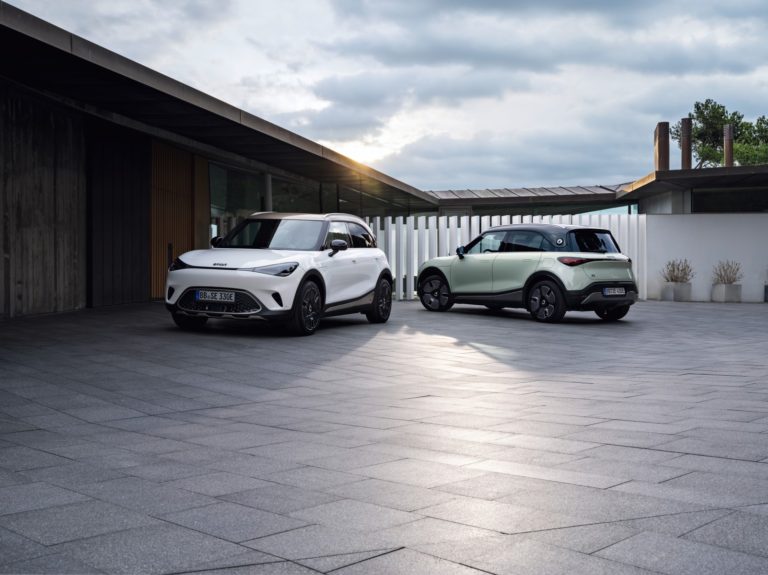 272 hp sounds like a lot of power for a Smart, but this crossover also has quite a bit of mass to move. Believe it or not, this new crossover weighs about 1,820 kilograms. That is not surprising when you consider its dimensions: the Smart #1 measures 4.27 meters long, 1.82 meters wide and 1.64 meters high. This makes it slightly larger than, let's say, a Hyundai Kona. Smart does not yet state what all that does to the 0-to-100 sprint, and they will also keep a secret when this model will be released on the market. Tis story will be continued!
Source : Autofans / Smart                                            Header / Images : SMART
* New and used Electric Cars on : EVTrader®
The Marketplace for Electric Vehicles