Honda plans 30 EV models by 2030
12. april 2022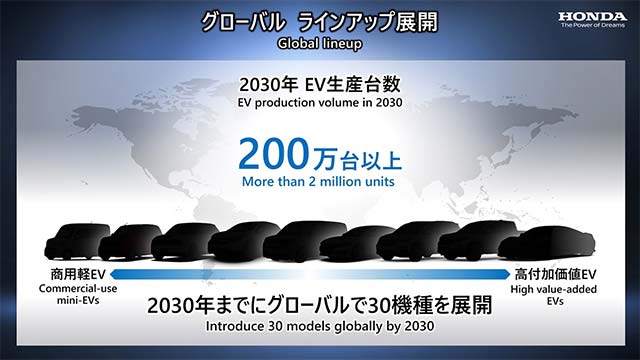 Japanese automaker Honda said Tuesday it will launch 30 electric vehicle models globally with a full lineup from commercial-use mini-EVs to flagship-class models.
Over the next decade, Honda will invest around 5 trillion yen ($40 billion) on electrification and software technologies over the next ten years. The company will also invest 8 trillion yen ($64 billion) on research and development, including about 43 billion yen (about $64 million) on a demonstration line for production of solid-state batteries, targeted to start in spring 2024.
Japanese automaker will spend an additional 10 billion yen ($80 million) per year in startups with high-potential advanced technologies and business models, which will expand the range of Honda technologies and businesses.
Japanese automaker aims to achieve a production volume of more than 2 million vehicles a year, aiming to gain share in the fast-growing market for electric vehicles.

In Japan, Honda plans to introduce in early 2024 an EV-model minivehicle priced at around 1 million yen (about $8,000).
Last week, Honda announced it would jointly develop with GM millions of affordable EVs for North America and China with production scheduled in 2027 that will go for around $30,000. Honda said it wanted to establish a dedicated electric vehicle production line in North America, where it will also procure Ultium batteries from General Motors Co.
Honda will introduce a total of 10 new EV models by 2027 in China. As for EV production operations, in China, Honda is planning to build a dedicated EV plant in Guangzhou as well as Wuhan.
In 2026, Honda will begin adopting Honda e: Architecture, an EV platform that combines the hardware platform and software platform.
Battery supply is a growing issue for Honda as carmakers around the world race to secure stocks to increase production. In North America, the Japanese carmaker said it would use GM's Ultium battery and was considering setting up a joint venture with another undisclosed player to produce batteries to use in EVs. In China, Honda will source batteries from CATL, the world's largest global battery group, while in Japan it will buy batteries from Envision AESC, the main battery supplier for the Renault-Nissan alliance, for compact electric vans in commercial use.
Source : ElectricCarReport / Global.Honda                  Images : Global Honda
* New and used Electric Cars on : EVTrader®
The Marketplace for Electric Vehicles