Mercedes EQXX previews a future four-door limousine
4. april 2022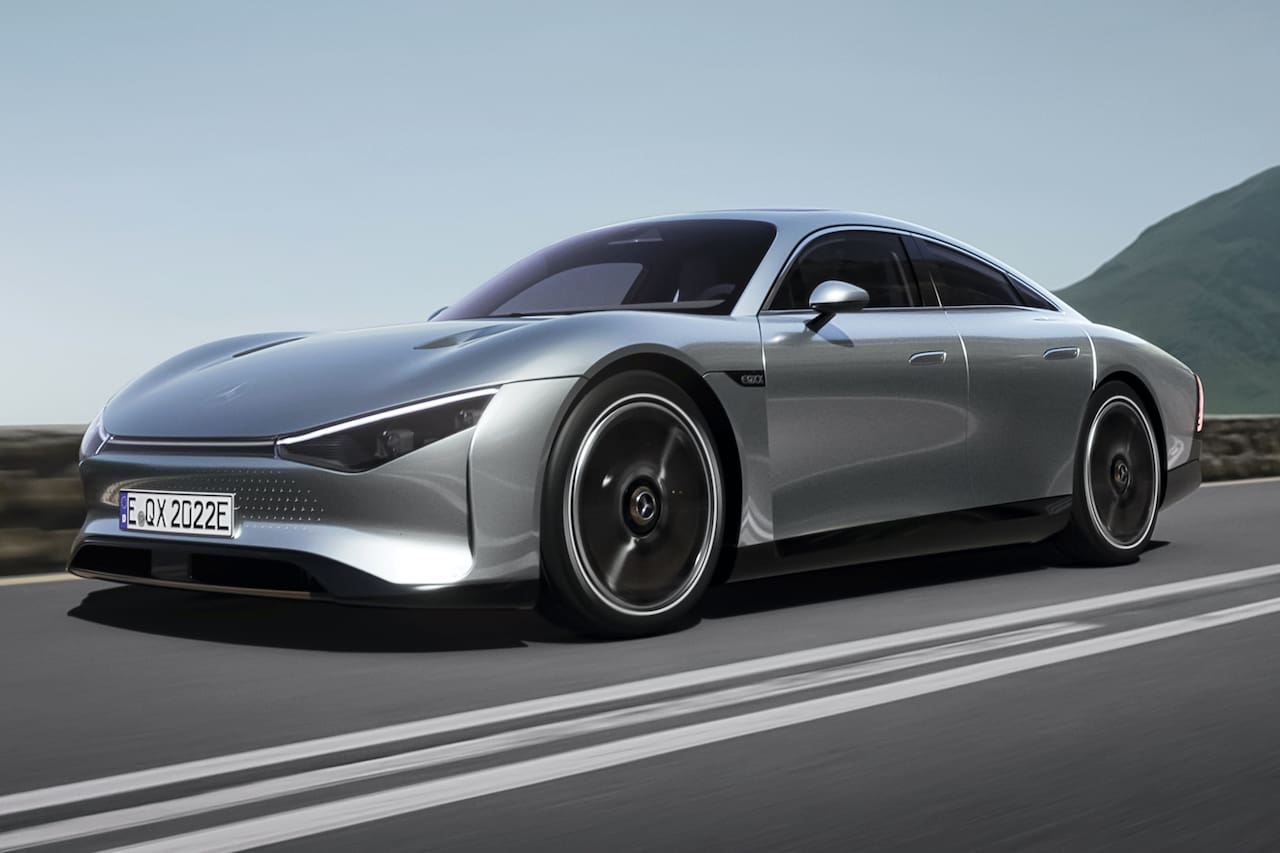 Update: 'Launch plan' section updated.
With the Mercedes EQS sedan, Mercedes-Benz Group is proud to have an electric car in its portfolio that can travel 780 km (485 miles) as per WLTP on a single charge, but it's not putting further innovations in this regard on ice. Work is already in progress to develop an EV with a range of more than 750 miles!
The Mercedes-Benz Strategy Update event in October 2020 was about the future of Mercedes-Benz (incl. Mercedes-AMG) concerning electrification, and it included a surprise announcement of a Mercedes EQXX concept – the Mercedes Vision EQXX, which is the most efficient electric vehicle in the world.
Mercedes not done with its quest for EV range
After introducing the EQS to the world, Christoph Starzynski, Vice-President Electric Vehicle Architecture, Mercedes-Benz, was asked in an interview if the EQS' range was "the end of the line." In response, Starzynski said:
"No, it doesn't stop at 770 kilometers. We have already announced the next step with the Vision EQXX technology program. Our development department is tasked with pushing the boundaries of range and efficiency. That's why we've put together a cross-functional and multi-disciplinary team in Stuttgart, supported by specialists from the British Mercedes-Benz F1 HPP Group. The colleagues contribute their expertise in electric motors as well as their motorsport-inspired development pace. Innovations from this technology program will be rapidly transferred to series production models".

Christoph Starzynski, Vice-President Electric Vehicle Architecture, Mercedes-Benz, in an interaction published on Mercedes-Benz Group's media site.
This wasn't the first time we heard a Mercedes official talk about Mercedes-AMG HPP's involvement in the development of the Mercedes EQXX. In March 2021, Hywel Thomas, MD, Mercedes-AMG High Performance Powertrains, said the same in an internal interview while discussing how that division participates in the development of some road cars.
"We are invited to take part in projects – albeit in different ways. From doing peer reviews on development that is going on, to co-developing concepts with our colleagues in Germany. One great example of that is our participation in the EQXX technology program, where we work alongside our engineering colleagues to take the next step in the reach, efficiency and charging of electric vehicles".

Hywel Thomas, MD, Mercedes-AMG High Performance Powertrains
In addition to F1 and Formula E, Thomas said that Mercedes-AMG HPP is concentrating hard on the Mercedes-AMG Project One and Mercedes-Benz EQXX projects. "That means we are developing the technologies in our racing program and introducing them in road car projects where appropriate," Thomas added.
Mercedes EQXX Design
The Mercedes Vision EQXX is the brand's most efficient vehicle to date. Image: Mercedes-Benz Group
The Mercedes Vision EQXX is part of a Mercedes-Benz technology program intended to overcome technological barriers and create new energy efficiency benchmarks for EVs. The goals of the program require rethinking fundamentals, hence the unusual exterior design. In popularity, SUVs are taking over, but a low and streamlined body style is more suitable for setting new efficiency records. That's why the Vision EQXX is a coupe, but it's not any coupe!
Sleekest four-door Mercedes
The Mercedes EQXX concept is by far the sleekest four-door Mercedes-Benz model. It looks bigger than it is because of its extremely long tail. It's 463 cm (182.3 inches) long, with the wheelbase accounting for 280 cm or 110.2 inches of length. According to a report from auto motor und sport, the rear doors of the concept are non-functional.
The silhouette of the Mercedes EQXX features an aerodynamic body with a long tail. Image: Mercedes-Benz Group
The ultra-sleek exterior leads to an extremely low drag coefficient of 0.17 Cd, making the Vision EQXX the most aerodynamically efficient Mercedes-Benz built. The report mentioned above says that the frontal area is less than that of the CLA (2.20 m2).
The lower the Cd, the better, as drag acts against the vehicle's direction, making it consume more power to cover the same distance. Automakers are constantly battling air resistance in the wind tunnel facilities to get their Cd values as low as possible. The Tesla Model 3 has a Cd of 0.23, which commanded praise in 2018. Porsche one-upped Tesla with its Taycan electric with a Cd of just 0.22. In 2021, the Lucid Air with 0.21 Cd and Mercedes EQS with 0.20 Cd made the competition quite intense among the aerodynamicists.
Interior
The EQXX's features are being integrated into future production cars, including the next generation of MMA-based models, says the company. Image: Mercedes-Benz Group
Inside, the Mercedes Vision EQXX flaunts a futuristic yet production-possible design. The highlight is a fully-digital dashboard, a 47.5-inch 8K mini-LED display stretching between the pillars. This stunning one-piece display has more than 3,000 local dimming zones! To put that into perspective, even an 86-inch LG 8K mini-LED TV (86QNED99VPA) doesn't have that many local dimming zones (close to 2,500). That's the level of attention the development team has given to energy consumption and efficiency.
Mercedes EQXX Specifications
Mercedes-Benz R&D and Mercedes-AMG High Performance Powertrains (HPP) jointly developed the platform of the Mercedes Vision EQXX. Mercedes-Benz Group says that the car's electric-only chassis with lightweight F1 subframe gives it a race car-level efficiency.
New York City to Cincinnati in a single charge
The Mercedes EQXX concept would do New York City to Cincinnati, or Berlin to Paris, in one charge. Its charging socket is on the right rear quarter. The car has a 920-volt battery pack with an energy storage capacity of almost 100 kWh (net), and yet, it weighs just about 1,750 kg or 3,858 lbs (gross). The battery pack occupies 50% less volume and is 30% lighter than that of the EQS. The concept EV offers a range of more than 1,000 km (621 miles).
Image: Mercedes-Benz Group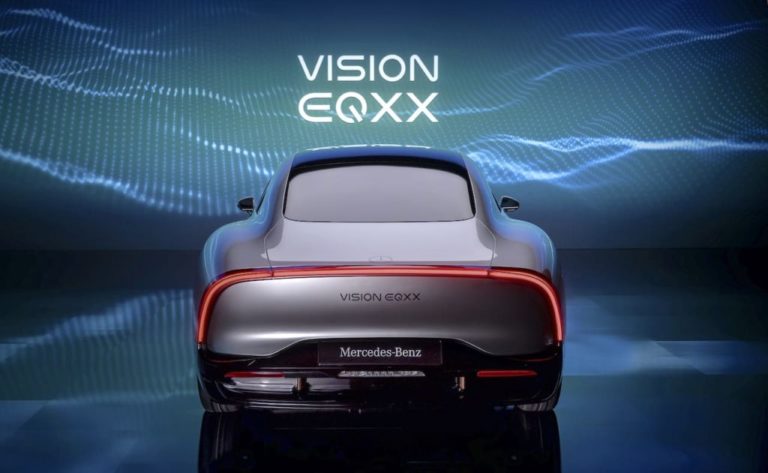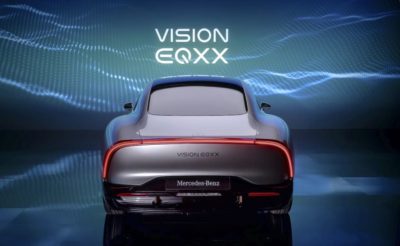 The Mercedes Vision EQXX weighs just about 1,750 kg or 3,858 lbs (gross). Image: Mercedes-Benz Group
The energy density is close to 400 Wh/l, making it possible to fit a large battery with such a high energy usable content into the compact dimensions. The high energy density itself became possible with the advancements in the chemistry of the anodes. Mercedes-Benz Group says that the higher silicon content and advanced composition of the anodes allow them to hold significantly more energy compared to other anodes. The electrical and electronic (EE) components lie in a separate compartment, called the OneBox. The battery pack, including this OneBox, weighs just around 495 kg (1,021 lbs).
In effect, we fitted the energy of the EQS into the vehicle dimensions of a compact car.

Adam Allsopp, Advanced Technology Director, Mercedes AMG HPP
Solar roof
The Vision EQXX features 117 solar cells on the roof that can add up to 25 km (16 miles) to the driving range. A separate LFP battery pack stores solar energy, which can power the lights, the infotainment system, a climate blower, and other ancillaries. Work is on to make the solar energy used for charging the traction battery pack.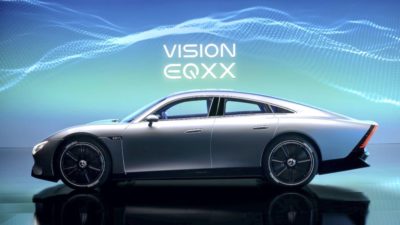 Image: Mercedes-Benz Group
The Mercedes Vision EQXX features a multi-source heat pump that recovers waste heat from the drivetrain and, through an external heat exchanger, draws heat from the ambient air outside. Image: Mercedes-Benz Group
Mercedes-Benz Group says that the Vision EQXX consumes less than 10 kWh/100 km (>6 miles/kWh), which is equivalent to a 1L/100 km (235 mpg U.S. or 282 mpg UK) fuel consumption rating for an ICE car. That's the same electrical energy as watching a 50-inch LED TV for 100 hours or using a typical domestic AC for around three hours.
Back in 2020, we initiated an exciting next step in electric vehicle development and put together a cross-functional, multi-disciplinary team of experts supported by specialists from the Mercedes-AMG F1 team. We instructed them to aim beyond 1,000 km on one charge. But not by making the battery bigger. Anybody could do that. No, they're working with a normal-sized battery, destined for series production in a forthcoming Mercedes compact car.

Ola Kallenius, CEO, Mercedes-Benz Group AG and Mercedes-Benz AG (Mercedes-Benz Strategy Update: electric drive)
Not a racecar
Besides focusing strongly on aerodynamics and weight reduction, Mercedes-Benz Group has kept the performance level of the Vision EQXX normal to ensure a four-digit range figure. The concept car employs just one motor, positioned at the rear axle, generating 150 kW (201 hp). Developed in-house, it's the eATS 2.0 motor that will power the MMA platform-based EV models, suggests the report from auto motor und sport. The company hasn't released the top speed, but the German report suggests that it is 150 km/h (93 mph).
The battery pack and motor work in sync to such an extent that 95% of the stored energy ends up at the wheels. That's better than BMW Group's fifth-gen eDrive motors, which achieve an efficiency of 93%.
Mercedes-Benz Group used a 150 kW motor probably to keep the weight in check. Perhaps higher outputs demanded a heavier cooling system. According to a report from JESMB, the company has used a passive cooling technique for the battery pack, which indicates that it was taking every step it could to reduce components. It hasn't installed an on-board charger as another weight-saving measure.
Air-cooled battery
The lack of an active cooling system for the battery pack means that the Vision EQXX can't take advantage of its 920-volt technology to the fullest extent. 120 kW is the maximum charging power the car can accept, as per the auto motor und sport report. However, just 15 minutes of charging should be enough to give a range of 300 km (186 miles), which could meet the required weekly range for almost all car owners.
Gallium Nitride
Konstantin Neiss, Director of R&D Transmission and eDrives, Mercedes-Benz, said the company would try to move away from Silicon Carbide and focus on Gallium Nitride. While the former is still pretty high-tech, researchers say Gallium Nitride is the Silicon Nitride of the future.
Owing to its wider bandgap than Silicon Carbide, Gallium Nitride can sustain higher voltages than silicon can survive, and the current can run through the device faster too. Gallium Nitride is proven to be more efficient than its Silicon counterparts as it loses less energy and can survive at higher temperatures. According to one research report, replacing current electronics with Gallium Nitride could cut power use by 10 to 25 percent.
Gallium Nitride is expected to be the future Silicon Carbide according to researchers. Image: Mercedes-Benz Group
The technologies on the EQXX fascinates, and what's thrilling is that they would cascade into lower models and the next-generation Mercedes electric cars.
Launch plan
Inspiration for the EQC sedan or EQA sedan?
Mercedes-Benz CTO Markus Schafer has said that "many, many elements" of the Vision EQXX are close to seeing series production and that its shape and form are very close to the series production car due in 2024. Mercedes-Benz Group CDO Gordon Wagener has said that the concept is "at least one segment smaller" than the EQE.
In addition to influencing the design of a compact or mid-size EV, the Vision EQXX will likely lend its highly advanced technologies to various future EVs. In a conversation with Autocar's sister publication Move Electric, a Mercedes-Benz spokesman said that the company will use the concept's technology and processes adopted during its development in mainstream models. The Vision EQXX "is a blueprint for series production" and many of its innovations will soon appear in production models, the spokesman said.
Source : TopElectricSUV         Auteur : Anjan Ravi                Header / Images : Mecredes-Benz Group
* New and used Electric Cars on : EVTrader®
The Marketplace for Electric Vehicles